Epitaph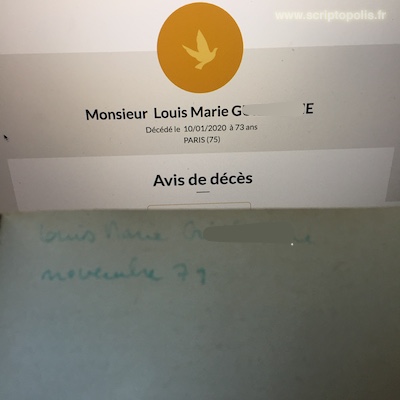 Paris, January 2020.
It was very cold that morning when I decidedly crossed this small flea market in the neighborhood. My eyes were drawn to the cover of a book I had just finished a few days earlier. It was placed on a table around which several elderly men were gathered. As I walked along, I discovered a library treasure that strollers shared out. We could still restore the shelves. Books and journals of psychoanalysis on desire adjoined the classics of structural anthropology, followed by a fine series of theoretical works on history, complete works from Alain Badiou and Philippe Lacoue-Labarthe and above all a strange collection of writings on bureaucracy. I am held here for a certain time, checking the amount of cash in my wallet and my ability to carry part of this treasure.
The books I bring back are worn, the covers often dirty and folded. The pages smell cold tobacco. But I am moved by the regularity of the lines in the margin and the beauty of the collection. By arranging the volumes, I find a name and a date which put me on the track of the owner.
I cannot resist the curiosity to look for traces which would have been left online by this reader — which I already have the feeling to know well. I quickly land on this site listing obituaries. I might have guessed, my reader has just disappeared. I now add to these two inscriptions photographed on the picture this third, to the dead who now resides a little with me. May the ground be light to you!