Stroke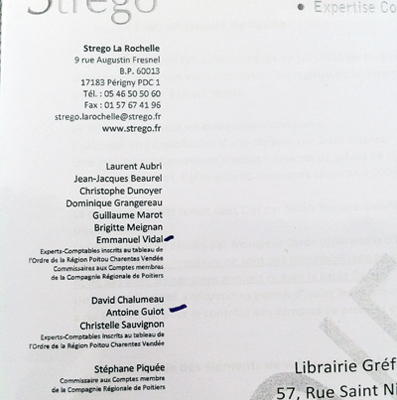 La Rochelle, august 2011.
Audit practices are now commonplace in business corporations, public institutions and administrations. Since the 1980s, the diversity of accounting devices, metrics and quality indexes, deployed in the name of the good governance of organizations, their financial health, their high position in international rankings, has been countless. Transparency is often a major principle of this vast movement towards the audit society, analyzed by Michael Power. The proper names of organizations and individuals are often at the heart of these processes. Present as logos, lists or signatures, they designate the authorities, locate the places, and thus meet the objective transparency.
This is precisely the case for the accounting expertise of this bookshop. The audit operation, which concerns a place gathering countless books signed with the name of their authors on the cover, results in a document which also displays names: those of the partners of the accounting firm. But how far does auditors' transparency go? While the graphic distribution of names on goods sometimes provides information on the importance of contributions, it makes the various employees of the accounting firm visible here. However, their names are arranged according to several alphabetical lists, with different levels of expertise between chartered accountants and statutory auditors. And to identify orders of responsibility, the escalation of so-called more reliable and sophisticated assessment technologies and indicators is simply unnecessary here. A simple stealth line in front of the two people engaged as principal by the file. That's it !