Table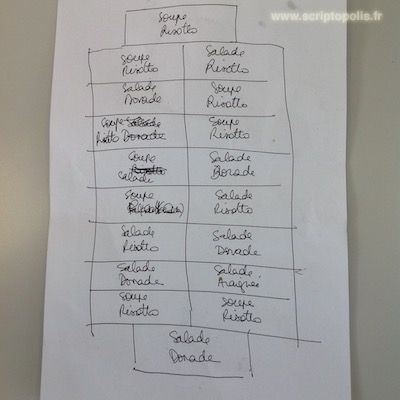 Geneva, November 2022
Coming out of a joint seminar and before returning, the group had booked lunch for 18 people, and consequently occupied the whole central part of the venue in this cosy restaurant. Even though the menu was limited in order to emphasise quality and freshness, there was still a choice of two starters, three main courses and two desserts, listed on the daily blackboard.
From the point of view of the wait staff, the choices of the guests take on a different perspective. In many places, staff are now equipped with electronic terminals that directly transmit orders, whereas here the paper/pen pair has been maintained. However, it is a special kind of paper since it is not a small vertical notebook that is used, but an A4 sheet of paper on which a stylised table plan is drawn, with a large box for each guest.
Then there is a correspondence between the order taken while passing along the table and the graphic space hosting a reduced form of the name of the dish, "salad", "soup", "risotto", sufficient to avoid any ambiguity. In the event of a mistake or a change of order, which is frequent for customers who are busy with their academic conversations, it is sufficient to cross out and correct. Thus, the distribution of dishes is collectivised, the sheet accessible to colleagues in the dining room who have not recorded it, the memory collectivised and externalised. The fluidity of the plan and the writing avoids the hesitation or shouting necessary when it comes to placing the four sea breams correctly.