Specter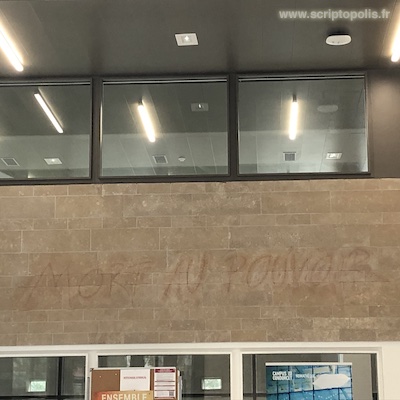 Aubervilliers, October 2023.
In April 2022, during the run-up to the French presidential election, the EHESS building in Aubervilliers, like other academic institutions, was occupied. The occupation left a lasting impression, not only because of the extent of the damage to the recently inaugurated campus, but also because of the red and black graffiti that the occupants sprayed, including anti-Semitic ones. In the days following the evacuation, maintenance workers picked up the rubble, cleaned up and erease graffiti ; rooms and offices were gradually restored, the University and its president lodged a complaint and, despite the emotion, seminars returned to normal.
However, buildings are not a passive surface in the hands of humans; they have their own resistance. In the present case, the stone-covered walls have absorbed some of the paint sprayed by the occupants' aerosols. And, despite the efforts and skills of professional erasers, here as elsewhere, the inscription persists and becomes part of the building's material ecology. Above the signage and displays competing for the attention , inscriptions in red capitals such as "MORT AU POUVOIR" (DEATH TO POWER) remain legible from the first steps into the hall. At a time of reactivated political violence and anti-Semitic hatred, the question arises as to whether these spectres of inscription might not actualize the threat perceived by the building's users.