Healthy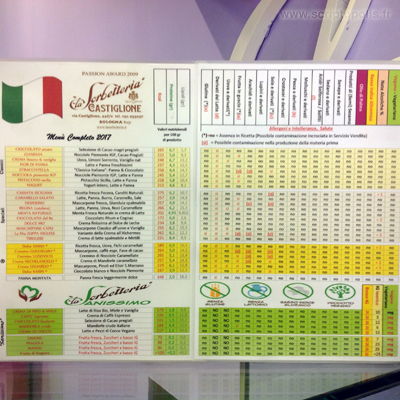 Bologna, october 2017.
Once again facing Italian ice cream, a dilemma arises. But here, no question to wonder about 12 different chocolate mixes, only to be sure what of the true nature of the available ice cream.
This double entry chart not only gives us the list of ingredients for each taste, but also the percentage of fat, carbohydrate and total number of kilocalories. Plus, it opens the almost infinite universe of possible allergens: derivatives from fish or molluscs – luckily absent here – derivatives from eggs, soya, dried fruits, peanuts or nuts.
Faced with these boxes worthy of an accounting table, there is fortunately a fallback solution: the green paradise of the lower part. These "sanissimi gelati" are guaranteed to have less : no gluten, no milk, no allergenic derivatives. Totally vegan, they even make gourmands feel less guilty because they come with a guaranteed low glycemic index. Let's taste one cup of "crema di cocco" or "cioccolato fondente" now that we know they won't hurt us.