Look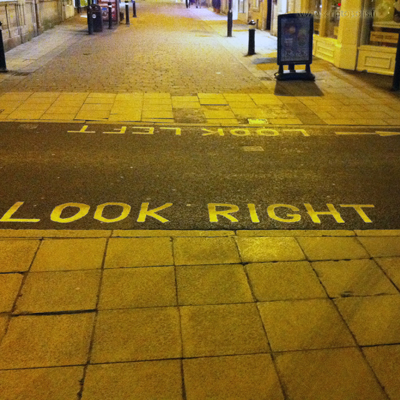 Lancaster, december 2010.
From the very beginning of our experience as a pedestrian, we are told to be careful. Crossing a street is never obvious. It is rather a risky business. As kids, we do not pay attention to this dark side of streets: the colors of cars, the noise of motorcycles, and the impressive size of trucks are too attractive to see any risk. Streets are a wonderful continuous performance. When being parents, one of the task is to teach our children how much important is to be aware of every potential risk that take place in the street. We emphasize, as soon as possible, the crucial role of sidewalks, traffic lights and crosswalks in the making of a safe circulation.
In some circumstances, even when adults, we are called to order with another kind of devices. In this pedestrian street in Lancaster, only a few cars are allowed to drive according to particular hours. However it crosses several one-way traffic streets where circulating entities are numerous. Instead of finding traffic-lights at their disposal, pedestrians are regularly faced with white words directly inscribed on the pavement. As obvious as they seem to be, these words do not only prescribe a safety act . They also reminded me that in this part of the world, before crossing streets, one has to watch right first. Thus, risk might be avoided according to situations only if we strongly reexamine our sound knowledge and automatisms, acquired since our childhood.