Caution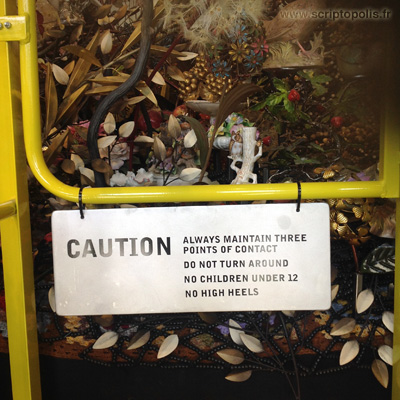 North Adams, September 2017
In this small western Massachusetts town, the visible brick buildings no longer housed workers or toxic substances. The gigantic rooms of industrial origin had been transformed into halls for a contemporary art museum, blazed by sunlight. Monumental works were offered to visitors, some they dominate, others admired by heading high or crossing through with delight.
But the dangers of the past have not completely disappeared: at the foot of a ladder literally leading to paradise as defined by the artist, industrial security seems to be restored. Here shoes are regulated, movements standardized to the point that it is necessary to maintain "three points of contact". Is it a joke of the artist? Is the content of the work, invisible from below, shocking for children? But soon a guard's order to an Eve descending from the paradise leaves no more doubt about the nature of the warning.
Even unwillingly, art is always a dangerous thing for viewers.