The performance of absence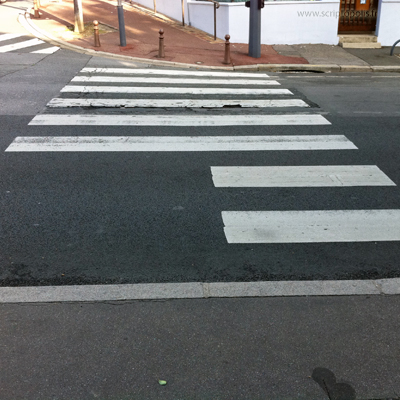 Road-marking, traffic lines, and criss-cross delineate specific zones devoted to the circulation and the use of space. They organize public settings so obviously that we almost do not pay any attention to them. It is only in particular apprenticeship situations that we remind kids their presence and their contribution to the fluidity of various moving entities: cars, buses, pedestrians… Our routines are also put to the test when we face up such a specimen: a dissymmetric crosswalk. Why are the first two white stripes shorter? The lack of paint? Or an artistic gesture? Who knows? Whatever it is, the road-marking is still efficient. Even inscribed in this way, it correctly delineates the specific zone for pedestrians to cross the street.

Yet, its form keeps on surprising us… It is well-known that the graphical ordering often goes with a series of inscriptions that are exactly the same. The painter would have stuck with the original pattern whether a car had not been parked on the crosswalk during his work. Whatever it looks like, the unfinished white stripes remain virtually present. As soon as a car is parked where the paint is missing on the crosswalk, a no parking fine is applicable. The aesthetic mismatch doesn't lead to a legal failure.