Paid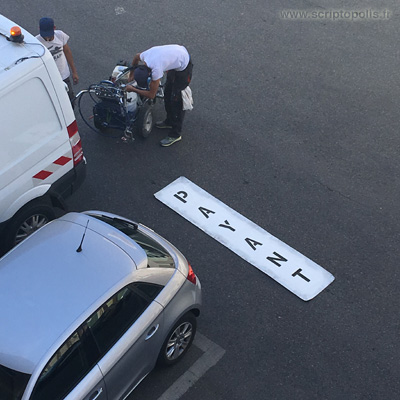 Marseilles, June 2019
It started with the noise of the compressor, unexpected in the middle of the afternoon in this quiet street. As it continued, intermittently, we looked out of the window to discover the unique device that caused it, the people who handled it and their beautiful stencil.
In this city where many sidewalks are legally occupied by parked cars, it is not always easy to understand where the regulated spaces are. And the sidewalks are so narrow that vertical traffic signs are excluded. So you have to mark on the ground again and again, so that the areas are clearly defined.
But the workers did not transform themselves into graffiti writers who signs quickly and lightly to avoid being caught in the act. The heavy and noisy equipment shall enable the paint to resist the passage of tires, sunburn and Mediterranean storms for a long time. The decoration of the floor not only transforms a public area into a paying concession, it reminds us that it is not the result of an artistic gesture, but the product of paid work.