Windshield, episode 2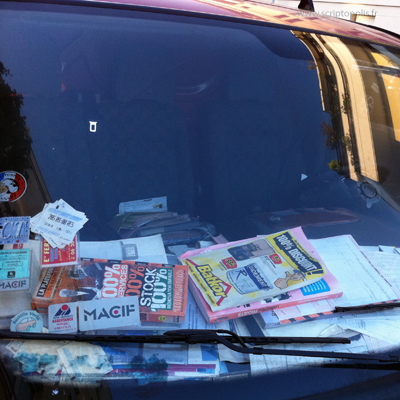 Through the ages, car has been object of numerous innovations. Of course, the engine power, noise and consumption as well as the optimal forms of the coachwork have been the focus of reflexions for a long time. Then more recently, the inside space has become the site of arrangements: electric windows, air conditioning, onboard computer, video screens behind seats… Passengers' comfort has been more and more improved, for the sake of security or as selling proposition. Car is no more a means to move, it is a pleasant place to live in.
Some people do not hesitate to take this proposition seriously by adding their personal touch. If one inhabits the passenger compartment, one might as well enjoy alternative means to escape from the car movement. Thus, multiple documents are at the passengers' disposal that could immerse in realities as diverse as a novel, a note, a catalogue, a parking ticket, an invoice or a roadmap… While some renown places of knowledge empties of their books, other sites now welcome a vast number of species of written objects. In this car turned into a library, old documents are next to brand new ones, that which are still in their packed and piled on the seat. This concern for a regular renewal goes with a particular service devoted to passers-by. The front deck is used as a shelf and the windshield works like a real shop window where last publications are highlighted.