Windshield, episode 1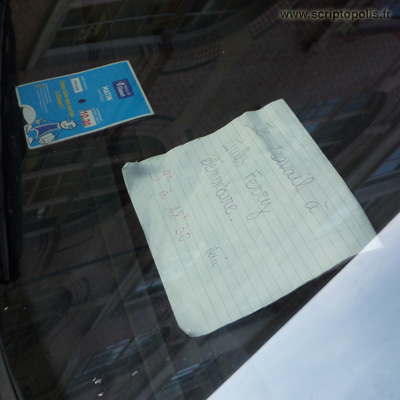 Amongst the objects that display writing, we often insisted on the crucial role of doors. There are of course a lot more. Windshields, for exemple, are not only transparent surfaces that protect the car driver and the other passengers from wind and rain. They are themselves great vehicles: one can show through them notes that have extremely various shapes, inside or outside the car. Proofs of parking lot payment, specific identification of the car, fine, and so forth. They can also been used as real means of communication. As media, someway. The handwriting note we can see here is, for instance, a sort of appeal to the benevolence of the policeman or the policewoman who could past here. It indicates the exceptional character of the vehicle parked here by giving some precision, in a personal manner, about its owner's quality. Employee of the school across the street, she has no other choice than to park around here. It's, in a way, a plea for justice. Coming here every day for professional reasons, it would be unfair for her to pay each time for the parking lot, just as more ordinary passersby.
But, the note still have to be convincing. It is not sure it can prove anything for itself. Here, one can be even more doubtful that the composition of the message — Me work at the Jules Ferry elementary — is almost an oxymoron.