Shades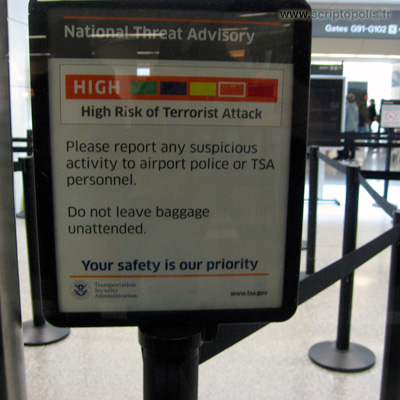 San Francisco, December 2010
There are words and signs that once were exceptional and that have become commonplace. Weather announcements then consisted in temperatures and a sun or rain forecast, while green spots, yellow, orange or red now dot the maps, here as a heat wave riks, possibly storms over there. We also got used to the idea of ​​a widespread terrorist risk, and that we could some way measure its intensity.
In France, the vigipirate frame comes in white, yellow, orange, red and scarlet. In this American airport, the chart goes from green to red and we are told that there's currently a high risk, at level 4. If the sources used to build this scale keep on being mysterious, the instructions to the public always look identical. We can't guess why we would be pushed to leave your luggage unattended or not to report suspicious behavior to authorities, even at the lowest level of the scale.
So, in the end, what does this signage tell us? To be aware of the fifty shades of the threat, as we must somehow live with it.