Measure of the strike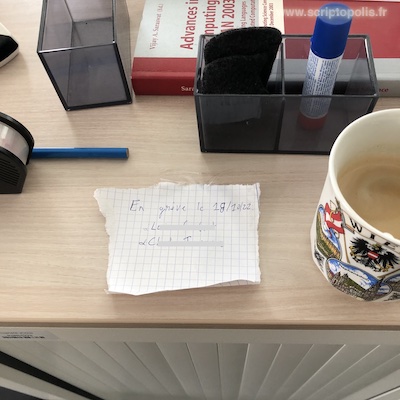 Paris, November 2022.

In France, depending on the relationship with the employer, the right to strike can be exercised either by the voluntary report of strikers, or by a bailiff going to the workplace to record the strikers. One of the practical purposes of the identification is to provide the financial services with the elements to make the corresponding withheld wages and to recalculate the contributions. However, in some fields, including research, where remote working has become so obvious that it is not declared, and where employees may be away for reasons that are not declared to their management on a daily basis (fieldwork, teaching, seminars, etc.), employers have to rely on individual declarations. And, here as elsewhere, a variety of scriptural practices co-exist.
In this laboratory, where relations with management are noticeably strained, these researchers wrote the date and their name on a small piece of paper, which they taped to their office cabinet and left in evidence for the month following the strike. They left it there for a month after the strike to see if the software, which is no longer able to pay their vacation fees or to integrate new employees who are offered interest-free loans, was able to remove the 30 cents of pay, and to see if the management bothered to take the measure of the social movement. The answer will be witten in the next pay slip.