Thanks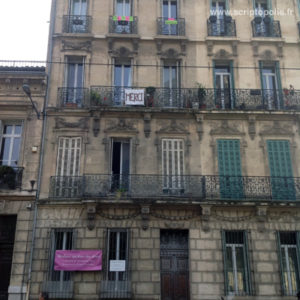 Marseille, March 2020.
The avenue was almost deserted, confinement obliges. The shops on the ground floor were closed, with iron curtains on which small posters recalling the government's decision were hung. But higher up, on the upper floors, one could see pieces of cloth that were well tied up, with their marker writing, easily readable from a distance.
A common word stood out, "Thank you". To whom, to what? To the nursing & medicalstaff of course, to the supermarket cashiers, to the delivery crews who defied the risks not anymore of moving around but of entering houses, to the garbage collectors for taking up dusbins, to the electricians for maintaining the network, as well as to the gas workers, computer and logistics agents, to the teachers for keeping up with their students & pupils, in spite of everything. All this invisible population or invisibilized at worst, despised or denigrated at best.
Thank you, therefore, for maintaining the world outside, so that we can stay inside, warm and with our families, unlike those who are homeless, those who are dependent on elderly houses, the prisoners in their cells, the sick in hospitals.
Those to whom this message is addressed will not see it, it only faces an empty park and then they are too busy, but it probably felt good to write it and post it, just like applauding in the evening at 8pm. In a situation of powerlessness, all we have left is gratitude.