The Park, episod 1. A wonderful mother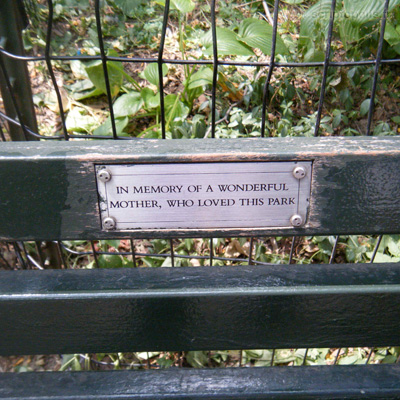 We saw it when entering Central Park, just outside of the Metropolitan Museum. Of course, in the lobby of the museum we had noticed the sign, prominently placed. It was the long list of donors: hundreds of names, the ones below the others. We also seen some of them in a room that suddenly displayed neither numbers, nor painter's or sculptor's name. The sole name of the author of this artistic gesture.

At the hospital, where we were going later in the afternoon, in the waiting room, above the aquarium, there was also a small plate with another name. Maybe the name of the family who gave the money to buy fishes and their jar in order to amuse the patients and their relatives. One can hardly imagine that these donors would have provided an aquarium and selected each fish on their own. There is a limit to gifs. What's important is to have one's name.

But this small metal plate, at the entrance of the park, did not displayed any identity. It had been carefully screwed into the wooden board, and one could read on it, without even bending, an inscription that was referring to the sole figure of an anonymous loved one. Looking around, we realized that for some money, enough to purchase a bench, you could have a plaque engraved with any message you want. But instead to inscribe his name (which would appear as crude as a price left on a gift), the anonymous donor had preferred to recall his/her wonderful mother, who probably died a few weeks ago. He had suddenly transformed something crude into an act of love, the love of the lost one, but also the love of the park, of its permanent embellishment. Because of these two lines, the image of an old woman appeared to us, sitting there smiling, enjoying the coolness of the trees in the middle of a hot summer.