Interpellation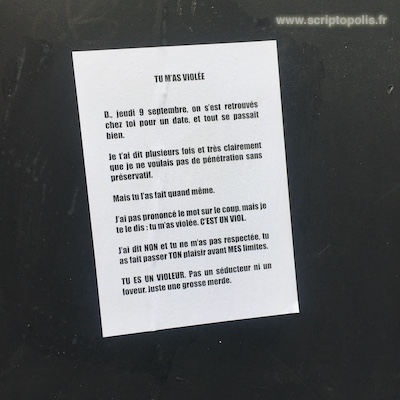 Paris, September 2021.


The poster was placed in such a way that no one who entered the door or walked along the sidewalk could ignore it. The typeface, without serifs or contrasts between the solid and the smooth, resembled Chrip, the new font of Twitter, the social network on which the witnesses of sexual and sexist violence had been propagated worldwide since the fall of 2017, with the intention that "shame should change sides," leaving the innermost being of the victims to hit the aggressors in public.
The placarded text recounted a "date" that had taken place the week before and had become, after the author reflected on "D.'s" failure to comply with her request to use a condom, "a rape." At the top center, in capital letters, it stated "YOU RAPED ME. The following text, sequenced in six paragraphs of less than 140 characters, took the form of the thread, a user's citation of his or her previous tweets to form a more extended statement. This aesthetic of interpellation extends the gesture of the poster-gluing women's collectives and #Metoo and pushes even further the stigmatization of abusers, showing up on their doorsteps, directly in the view of their neighbors.