Timetable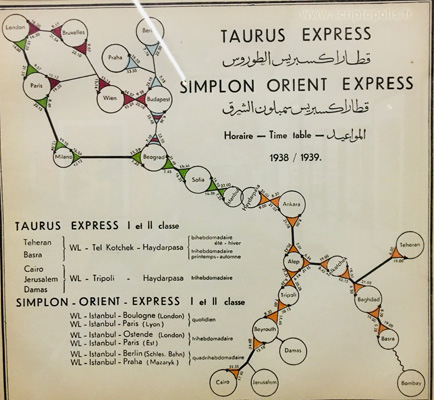 Arles, August 2021.
Night trains are set to reopen in Europe as a key measure to combat climate change. Less than a century ago, before the triumph of commercial aviation, they were the epitome of luxury and the art of travel. Going from London to Istanbul didn't mean flying out of Heathrow for 3.5 hours, but boarding a train in the city centre. That would seem like a very long journey to us today, when the aim was to present the experience of rail speed as indicated by the qualification 'express'.
Among the company's services, apart from the indispensable sleeping cars, the precision of the timetables indicated in this document impresses travellers: to the minute, you know when you will arrive in Istanbul. And you'll see that if you narrowly miss the train to Paris and Milan, you can pass through Brussels and Vienna before catching it in the early hours of the morning in Belgrade. But the journey doesn't end there, because after a ferry on the Bosphorus, you can take the Taurus Express to Baghdad or Cairo.
How many days would it take? Does it matter at all, as your meals and sleeping arrangements are included in the price? You can reconstruct the number of nights by following the coloured arrows from station to station, schedule to schedule. But only Phileas Fogg's followers want to know when their journey will end, unless a snowstorm or a collective murder occurs.