Ghost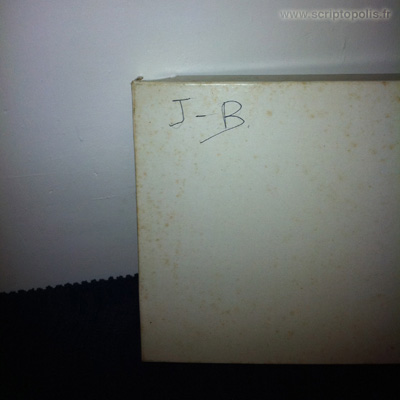 Capbreton, august 2011.
A few years ago, you have finally understood that getting old means living with more and more dead people. A gang of ghosts, continuously growing. But you also understood that such an inescapable truth was not a sole matter of loss and disappearance. Dead friends and dead parents occasionally show up. Some more often than others. Some in a more dramatic way than others.
Of course, that happens a lot within houses, even those that are not haunted, where appearances are countless. In photographs obviously, but also in an old hat still hanging on a coat-hanger, in an armchair, in the kitchen where you and then your daughter used to watch him with love taking his well-known highly ritualized breakfast. As time goes by, visits rarefy. His presence slowly merges into that of the whole house. And one day, as you were moving some boxes, you suddenly faced with the handwritten initials of his first name. And you smile, looking at these two letters, which he probably drew without even thinking about it, happy to have had the opportunity to meet him one more time.