50 shades of brown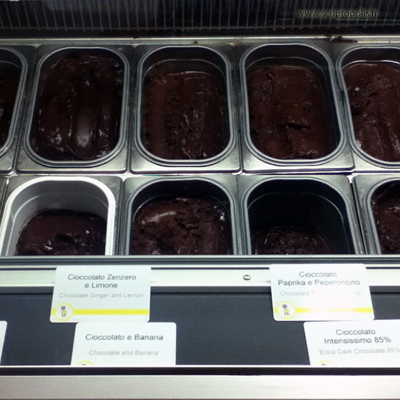 The food industry has learned to manipulate our senses: taste enhancers, thickeners, dyes and artificial flavors regularly deceive our eyes and palate. It has set new standards on the appearance of products: strawberry ice cream should be a sparkling rose, vanilla, light yellow with small black dots and pistachio, pastel or dark green depending on dosage.
So when an ice amateur arrives in Italy, the country in which an ice-cream university has opened, (s)he wishes to discover all kinds of home-made gelati. But the loss of usual landmarks can lead to some vertigo: there is no more one chocolate ice cream, but fourteen of them, exhibiting shades of deep brown, a shiny or more matte surface. Thus there are two modes of action to choose between them.
The reckless gourmand choose to ask the seller, in some Italian gibberings, to taste two or three of these delights: like a wine tasting, close your eyes, put a spoon in your mouth and discover that paprika is present from the start, and chili appears aftertaste, leaving fire in the mouth. However, without risking to break the interaction, it is difficult to try them all before choosing.
The wise traveler rely on labels facing containers, written in Italian and sometimes translated into English and transcribe his/her past experiences through this channel: I love 85% dark chocolate so the ice made of it is taken to be good, but maybe less than the exoctic 71% single-origin? Writings here are no more than a lifeline, a fragile mediator between past and future taste experiences.