Emotions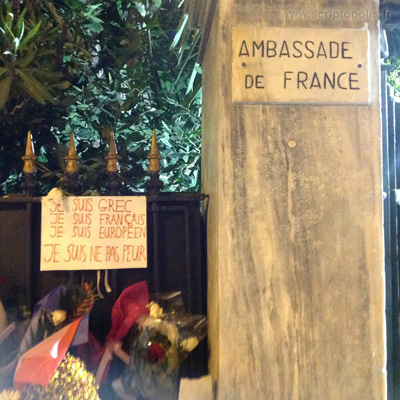 Athens, November 2015.
The night was warm, as in Paris a week earlier, and orange lights illuminated the Acropolis overlooking the city. Near Syntagma Square and the Parliament where the changing of the guard attracts tourists, lies an avenue with opulent buildings, museums and ministries. And then, at a street corner, we see a small building with tall gates.
Colleagues exclaim: "Oh, it's the French Embassy!" Discover hundreds of flowers, candles and flags, forming a multicolored ensemble. Then you realize how many came here, how they thought to those far away who have fallen. And then, hung by some wire, stuck against the gates, words written in Latin letters, in halting French. Here, statements don't count, but only the saying: emotions arise, uncontrollable, when facing these manifestations of compassion and solidarity.