Last home: foreign squatters?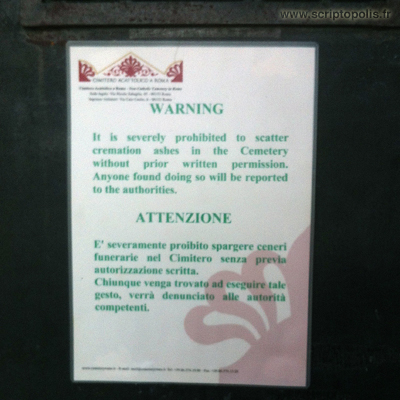 Our guest : Florence Paterson
Rome, november 2017.
Cimitero Acattolico. No doubt the serenity of the place and the beautiful sunlight filtering through the vegetation make it a desirable last home. This "non-Catholic" cemetery near Porta San Paolo, mentioned in most tourist guides, houses the graves of well-known and less-known figures born throughout the world. At the entrance, a sign warns you: you are not allowed to scatter cremation ashes in the cemetery! The idea that the administration of a cemetery could handle a squatter problem had never occurred to me. And the practice had to be sufficiently recurrent to be worth the display of the sign, which no visitor can fail to read. Do anonymous souls, known only to their close relations, haunt these alleys? The warning written in English then in Italian, threatening (without much detail) those who would be caught in the act, leads me to think that the sign is first placed there at the address of foreigners. So, a problem with foreign squatters? Unless it's because the place is also called Cimitero degli Inglesi? Or is it about adding some mystery?