Mistrust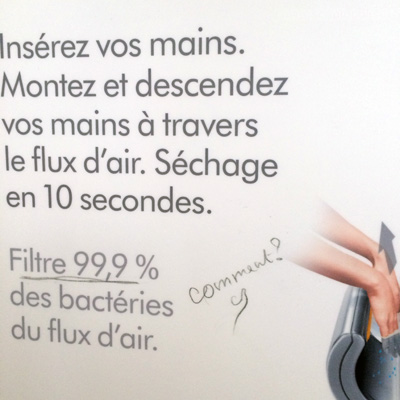 Our risk society is also a society of collective doubt and questioning. Experts talks no longer carry the old authority and those who are eligible to wobble certainties are becoming more numerous. Microwaves, shale gas, large urban projects, GMOs, vaccination campaigns, there are more and more objects that are questioned, in variously articulated and radical ways.
For the past many years, school students of so-called "elite schools" – those very people who are trained to feed the ranks of the corporate elite and European politicians and have their voice shaken – are aware of these changes. Tirelessly, despite the disparaging remarks and disrespect of these "real" budding scientists, teachers seek to guide them in analyzing all kinds of controversies, hoping they will benefit from the experience and learn some useful lessons or at least consider competing arguments.
The task is difficult, and some stubborn students are frankly disheartening. Yet a single visit to the bathroom of this pioneering school is enough to regain hope. Hand written, such an innocuous graffiti, "how? "and the underlining of the impressive figure of this mid-manual mid-advertising poster suggests that all is not lost. The taste of investigations and the requirements to open the black boxes of the quantification will eventually go through the bathroom door.