Discovery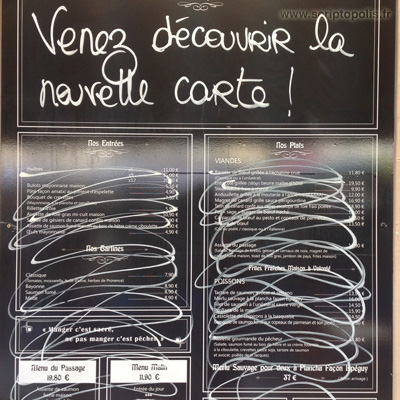 Bordeaux, February 2015.
The French restaurant experience does not begin with white tablecloths and waiters dressed in black but starts out of the room, in front of a legal signage which has to be displayed with available food and drinks, as well as their prices. No need to go in, sit down and ask what there is in the kitchen before deciding to eat or getting out. Just approach the outdoor support, which comes in two distinct forms: either it is a stable "menu", in plastic form or under glass, or a ever changing slate showing the daily cooking of fresh food available on the market.
This restaurant had chosen the fake slate: an air of daily brasserie with white writing on a black background, though in fact always the same menu. At least until it changed: white erasures and handwriting mark this break. Yet here, no new owner likely to make you forget the past unsavory dishes, just new things to try. If the permanent support is helpful to show the change, do you think that the culinary qualities go on beyond food and the joy of discovery outweighs the risk of being disappointed?