Crazy Cretans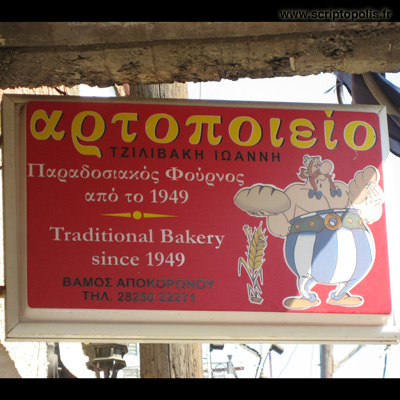 One of the most visible aspects of globalization is not "made in China" on the back of many manufactured goods, but the geographical extension of what was once attached to a territory, and its infinite reproduction in always different places. Signs, illuminated or not, the graphics of the large franchising companies are all recognizable patterns among a crowd. Not only fonts are always the same, but the locations and products are allegedly substitutable, whether they stand in Paris, Singapore or Heraklion. In contrast to the reassuring familiar topos, the traveler in love with typicality searches for small and authentic places, which can not exist elsewhere, whether it offers food, shelter or various services.
So, looking for breads and pastries in this small Cretan village, the discovery of this sign surprises. As indicated in Greek αρτοποιείο is a real bakery. But if it is traditional, open for over 60 years, what is a very famous character of a Franco-Belgian comic strip, invented twelve years later, for ? Did Goscinny or Uderzo, its creators, particularly like the local bread, or has the baker has been educated by the reading of Asterix at the Olympic Games?
If merchandising is one of the advanced forms of control on the circulation of signs, symbols, icons and other figures of popular culture, it faces other forms of appropriation. Obelix has not simply been transliterated into Οβελιξάκης, he has abandoned the Cretan maquis full of hares ready to be roasted and became infatuated in loaves of bread … and capture the sympathy of customers.