Red Heart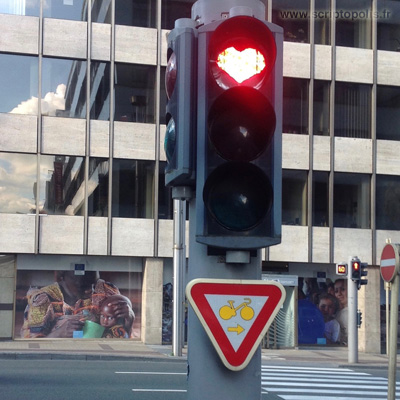 Brussels, July 2016
The area was deserted on this summer Sunday, the usual officials and lobbyists being absent at the entrance of the office buildings. At the heart of Europe with its four lanes, "Law street" was covered by only a few cars.
Despite this low activity, traffic lights keep on calmly shifting, their automated brain invisible to users. But the red light, when it appeared to block the passage to those morally complying, was not ordinary.
A small opaque cache nicely cut and the stop sign had been transformed into a symbol of love. An attempt to humanize the cold Europe no longer supported by citizens? An aesthetic or playful gesture to simply brighten this neighborhood made of glass, concrete and asphalt? When the light turns green, traffic restarts and the business picks up, apparently unchanged.