Weight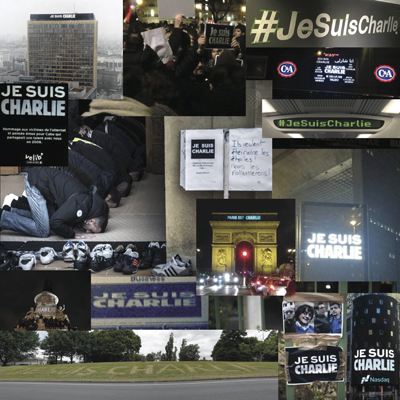 Paris & everywhere else, January 2015.
In the streets, on TV, in newspapers, on social networks sites, on clothes: a few hours after the shock of the first murders, a graphic object has multiplied before our eyes, becoming a demonstration instrument over days, an worldwide gathering object. The phrase itself has circulated in many forms, displayed on urban screens, projected on monuments, copied on all kinds of paper, drawn on skins. The trajectory of "I am Charlie," which genesis has been quickly traced, up to controversies that this formula may have caused, makes us aware of a particular aspect of the strength of writings.
In this instance, to write enables, in the same movement, to protest and to rally. "Je suis Charlie" is one of those scriptural forms that empowers collective action, embodies them beyond the repeated presence of women, men and children in the streets of France and elsewhere. This force is not the transmission or even the echo chamber that would amplify a single "message". Rather, it is an ambiguous and imprecise force. Among those who show it, many people speak and read very different things with a single sentence.
Moreover, this force exceeds us. "I am Charlie" says and does things well beyond any intention of utterance. This is a direct consequence of the horrors perpetrated in the offices of Charlie Hebdo on Wednesday morning. Whichever way one tries to express his support, his confusion, his fear, his sympathy to the relatives of the victims and people of the world, it is exceeded, unable to remove a single hand gesture, or a good word, the weight of our statements. And it is already a failure for some survivors of the weekly that was meant to be not only satirical, grotesque, but especially "irresponsible." This discomfort is probably best expressed by Luz, one of which thought they could "only" sketch "little figures": "the current symbolic weight is everything against which Charlie has always pushed" .