Certified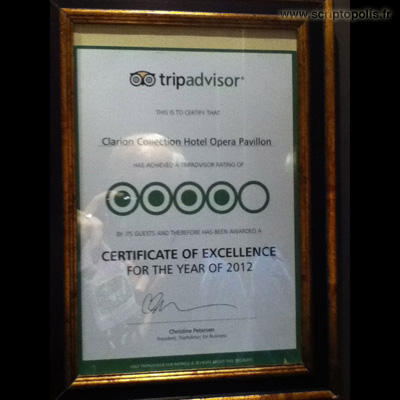 In Elevators, you're bored, you're scared, you look buttons leading to different floors whether you arein a station or this hotel. Could we find a better place to catch the eye of captive and stressed passengers for a few moments and to focus their attention on a meaningful written record ? We can show them the wonderful dishes of the restaurant or the services offered by their place of residence such as a swimming pool, a spa, a workplace or wireless network. But here is another kind of sign that adorns the tiny elevator.
Signed by the head of a company unrelated to the hotel, there is a "Certificate of Excellence" attributed to the latter with four beautiful green circles on a possible five. Audit systems are certainly developed in our societies, but this one is very special: it is not Michelin inspectors coming to assign a label or administrations affecting stars based on the actual facilities of the hotel (room size, presence of a bath …). Never the author of the certificate or one of its representatives has set foot in this hotel. Only "ordinary" customers are responsible for the rating, giving their reasoned opinion on the third-party company website which aggregates them.
Mise-en-abyme vertigo: what I see in front of me is the judgment of a diverse crowd , but each individual has stood before me in this very narrow space. Did they see the same sign, has it led them to give their opinion on their stay? Will I be part of this rating and go to that website, leaving there a trace of my passage? Far from the singularity of lovers writings, will I decide to become a very small part of a certification body?