Anthropo-Seine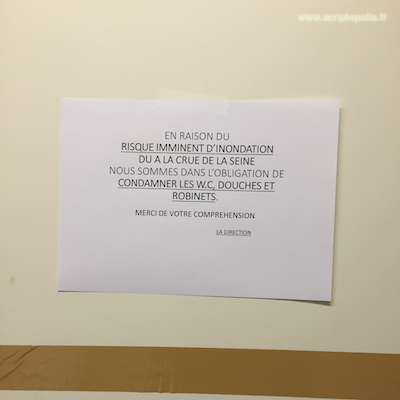 Paris, January 2018.
We are used to say that the Anthropocene, Capitalocene, or Plantalocene, can be seen in severe discontinuities. When going across the town, the attentive passer-by may have some first indications. Paris is marbled by flood marks and, right now, everyone feels the trouble. There is no more train C, we carefully follow flood forecasting and rediscover the meaning of "Zouaves" statues. Let's see if the Prefecture will install some more reference points.
On the picture, marking is much more fragile. Walls are covered with duct tape and we cannot access sanitation. A placard explicit the prohibition. The Direction fears that the Seine river would enter into the changing rooms. As a consequence of this new discontinuity, we practice sport without any water and drink afterward at the public fountain, a little further away, on the boulevard. Tonight, it has been a week that we are queueing at the fountain with many other precarious people after food distribution. Here and now, I along with others feel how the Anthropocene recomposes and assembles resources and refugees.