Border Line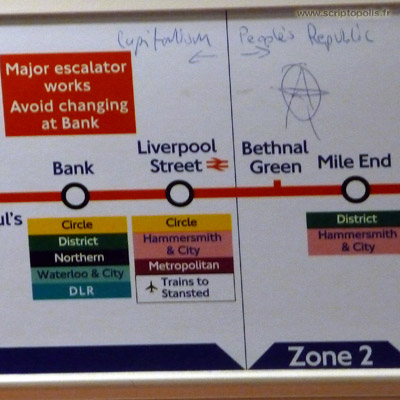 L'invitée du vendredi : Giovanna Sonda (Université de Trento, Italie)
London, May 2009.
The red line of the London tube crosses the underground city all over the six zones in which the metropolitan transport system is divided. It passes through the very centre of London and connects the north-east suburb with the north-west one. This is more or less what you can grasp only by looking at the map. It may be enough to plan your journey, but if you are asking yourself which kind of people you are going to meet, which kind of neighbourhoods you are passing through, it may be not easy to answer. Despite the zoning used in the map, nothing is said about the social fabric of the neighbourhoods. Moreover the tube is a melting pot of people moving across metropolitan and social borders. Thus it won't be easy to catch the peculiarities of the places the train stops at. Someone took the trouble to point it out. Such a distinction is not a mere piece of information, or another way to label zone 1 and 2. It rather is a form of stigmatization of places, a way to alert the passenger of the social change he/she will experience in few stops. What shall we expect then within this borderline stretch of tube connecting 'Capitalism' with 'People's Republic'?
Traduction :
La ligne rouge du métro de Londres (le Tube) traverse la ville souterraine le long des six zones qui divisent le réseau. Elle passe dans l'hyper centre de Londres et relie les banlieues Nord-Est et Nord-Ouest. C'est plus ou moins ce que vous pouvez comprendre, en regardant seulement la carte. Cela peut suffire pour organiser votre déplacement, mais si vous vous demandez quels genres de personnes vous allez croiser, quels genres de quartiers vous traversez, ce sera sans doute difficile de répondre. Malgré le découpage en zones sur la carte, rien n'est dit du tissu social des quartiers. Qui plus est, le Tube est un melting pot de gens qui se déplacent dans la métropole et traversent les frontières sociales. Il ne sera pas facile de se faire une idée des particularités des lieux où le train s'arrête.
Quelqu'un s'est chargé de les indiquer. La distinction qui est faite n'est pas une simple information, ou une nouvelle manière de marquer zone 1 et 2. Il s'agit plutôt d'une forme de stigmatisation des lieux, un moyen d'alerter le voyageur du changement social dont il va faire l'expérience dans quelques arrêts. Mais à quoi devons-nous donc nous attendre, sur cette frontière séparant un métro qui relie le « Capitalisme » et la « République du Peuple » ?