Edited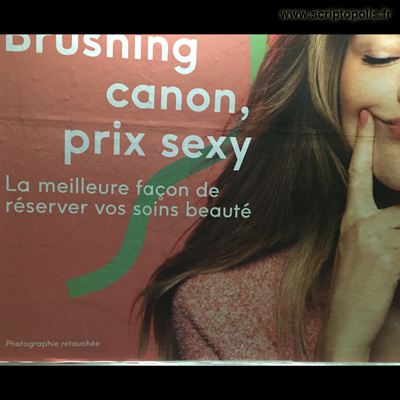 Paris, December 2017.
Today I am afraid to show up totally soaked at an interview, so I drop my bicycle and take the subway with you. Do you pay attention to advertisement? A little attention you say. I bet that advertising spaces thrive because they successfully make this new series, the extension of that remarkable exhibition, or that brand-new services for the end of the year holidays. Did you notice that spaces are labelled – and probably priced in a table somewhere into the RATP office? Guess how expensive is that space in the very posh 7th quarter where I got off?!
You know, we have long been criticizing visual pollution in Paris. We have also analyzed methods and tools used to target, and gossip a lot on bad or tasteful campaigns. I propose you to play the advertisers' game and ask what do we need to know to quietly cross the 7th quarter? As it happens, concerning rainy days, this ad invites you to book some skin care with your smartphone. "Great, uberize beauty culture, give incentives to trade more and more… That's all we need". You point out the legal notice at the bottom of the poster. "Edited photography" is now added on every poster displaying a slimmed model. "We all know that photos are manufactured". You seem to be skeptical, it is again, the treachery of images. Or worst, according to you, "writing it does not change anything. They still have selected young, slim and long-hair white women". I ask you, "But isn't it a first step? Who knows if passers-by would not entertain picking up modifications. And by increasing photo expertise, advertisers would review beauty standards. I have to go and anyway we will not close the chapter this morning". Yet I feel a little more optimistic and promise myself to reconsider advertisements.