Ghost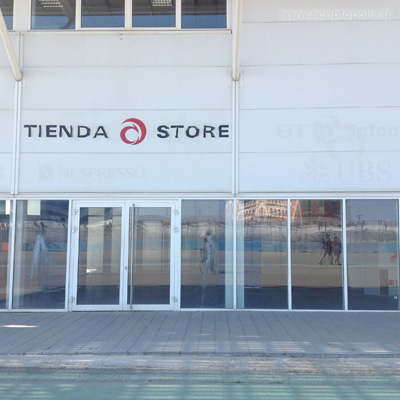 Valencia, March 2016
Almost ten years, the pool was full of boats and onlookers, and the images of the regattas were transmitted worldwide. Today, under the sun, the marina accommodates only a few walkers and occasional sailers. Yet buildings are still there, traces of past glory not translated in a booming present.
At the port entrance, there is a store, Tienda / Shop as indicated by the faded stickers; but there is nothing left to sell inside, not even a caretaker for the building. The logo of the winning boat is there, but no more gadgets and branded goods for shoppers.
On the White will, if we look closely, we see traces of other well-known brands: a phone company, an inernational bank and a coffee brand. They still exist, but are only colonizing better attended locations. In this space, where nothing is monetized anymore, they have become ghosts.