Professorship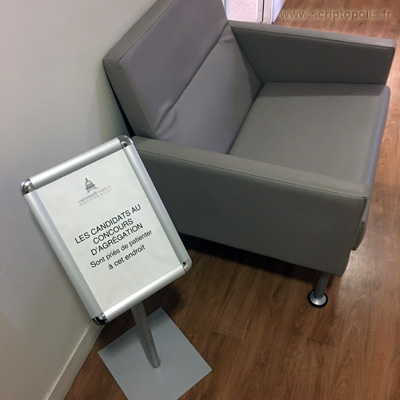 Paris, January 2022.
It is a competitive examination from nowhere. For more than a century and a half, far from localised recruitment and therefore necessarily suspect of localism, juries of seven members have been meeting for months, watching numerous candidates for hours before putting them through the ringer for lessons. The lucky ones then choose their position from among those available, without the university that will accommodate them having any say in the matter. The agrégation du supérieur, which has survived only in management sciences, political science and law, is a chemically pure synthesis of French republican centralism.
And yet, this competition does take place somewhere, in university premises, in rooms reserved for days on end, with its own budget, trains, restaurants and hotels to pay for. Also, in the middle of this corridor, this chair with its incongruous placement cannot mark its extraterritoriality on its own. It needs the accompaniment of this small cardboard box with a tone close to that of a professional office to express it. Even though the logo of Paris Panthéon-Assas is well inscribed, the text reminds us that the centuries-old university is only a temporary receptacle for candidates in transit.